kt bruce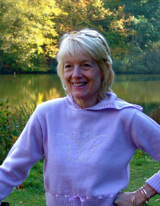 K T Bruce has the ability to bring out the best in her subjects and create a relaxed atmosphere. She produces pictures that capture the happiness and emotions of the day. Her work is highly sought after and she has an extensive portfolio.
2011 was an exciting year for KT, she worked as the Archbishop of Canterbury's press photographer during his four day visit to Oxfordshire and with David Cameron. Other noteable faces were Michele Obama, Princess Royal and other members of the Royal family, Jane Williams, PD James, William Fiennes, Celia Imrie, John Humphries and Edna O'Brien. 2012 was colourful and exciting with the highlight invited to photograph the Queen at Buckingham Palace for the Bodleian. Kt was invited to cover the first Bloxham Faith Festival for the Church Times and due to her success has been invited back each year.
Kt's diary has continued to be full of interesting commissions : one of the commissioins that has blossomed is the Wall of Fame at the Randolph Hotel. A visit is recommended.She works on location or in her studio and covers events, weddings, conferences, new born children, family portraiture, portraits of artists, musicians and actors.
She teams up with her husband for weddings and they blend an unobtrusive approach with a subtle formality, creating vivid memories of that special event.